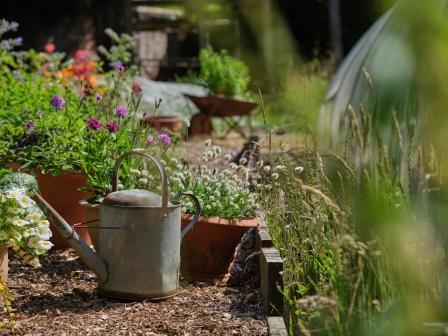 The thing our guests always tell us is just how peaceful it is at Knapp House. I think so many of us are drained with life's constant rushing around and Covid lockdowns have taught us a thing or two about living a simpler life. We've been wondering how we could harness the tranquility of our surroundings and tip a nod to the Art and Craft heritage of this lovely house. So next year we are going to offer a number of retreats, all of them focused on a much more natural way of living, something William Morris, the founder of the Art and Crafts movement was dedicated to.
We are certainly not going to be running "courses" - these will be retreats. Unhurried, restful and with enough time to enjoy the surroundings and get some balance into life. Each retreat will offer a skill dedicated to becoming more sustainable. There will be a retreat dedicated to using the herbs and flowers around us to make luxurious botanical skincare run by the wonderful Sami from Freyaluna. Featured in Country Living Sami started making her own skincare when she realised this was the only thing that could cure her problem skin. We'll be looking at how to get gut healthy by taking up fermenting, being creative with natural colour either for painting and printing or natural dyeing and much more.
There will be more details of these courses and more on our blog and in our newsletter. You could also follow us on Instagram for regular updates.